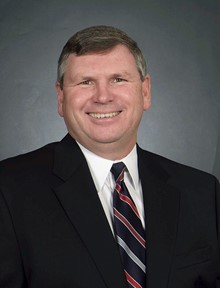 Pastor Krachenfels, born in 1954, was raised in Westland, Michigan. He joined the US Navy at the age of 17 and was stationed at NAS Oceana in Virginia Beach, Virginia. While there, he attended an old-fashioned tent revival, and on June 17, 1974 repented of his sin and trusted Jesus Christ as his Savior. He has been a student of God's Word throughout his Christian walk, having received a Bachelor of Arts degree in Church Administration in 1979, a Master of Theology degree in 2001, and a Doctor of Ministry degree in 2011.

While attending the Tabernacle Baptist Bible Institute in Virginia Beach, VA, he and Debbie were married, and after graduating, they served for thirteen years in a missionary printing ministry. They then moved to Southeastern Michigan where he served for eighteen years in Pastoral ministry. In July 2012 he was asked to come to Temple Baptist Church to assist in rebuilding this ministry, and in August the congregation unanimously voted to extend a call for him to serve as their next Pastor.
Pastor and Debbie have three sons, each living for the Lord, and fourteen grandchildren. We pray, should the Lord tarry His return, that God will give our Pastor and his wife many more years of added health and strength as they continue to serve Him with us here at Temple Baptist Church.
Looking For A Church Family?
There is a place here for you at temple baptist church